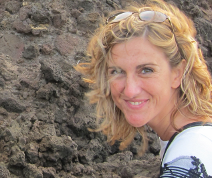 Ph.D. Student
Phone: 928 454 440
Fax: 928 452 922
maytames@gmail.com
Departamento de Biología, Edificio de Ciencias Básicas
Campus Universitario de Tafira, Universidad de Las Palmas de Gran Canaria
35017 Las Palmas de Gran Canaria
Spain
Social Networks
Research interests
Marine Ecophysiology,
Biochemical Oceanography
Mayte's papers
2 017
TAMES-ESPINOSA, M., M. GÓMEZ
OKEANOS, 5, 24-27, 2017
TAUCHER, J., L.T., BACH, T. BOXHAMMER, A. NAUENDORF, THE GRAN CANARIA KOSMOS CONSORTIUM, E.P. ACHTEBERG, y 60 autores más
Frontiers in Marine Science, 4 (85), 1-18, 2017.
2 015
Tames-Espinosa, M., Martínez, I., Packard, T.T., & Gómez, M. (2015). Planktonic potential CO2 emission calculation: Preliminary results by applying an adapted enzymatic methodology to marine ecosystems. In: V. Díaz del Río, P. Bárcenas, L.M. Fernández-Salas, N. López-González, D. Palomino, J.L. Rueda, O. Sánchez-Guillamón, J.T. Vázquez (eds): Volumen de Comunicaciones presentadas en el VIII Simposio sobre el Margen Ibérico Atlántico. Ediciones Sia Graf, Málaga, pp.: 1-4.