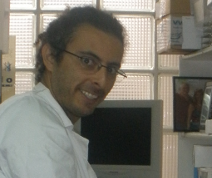 Postdoctoral Researcher
Phone: 928 454 473
Fax: 928 452 922
maldonadofederico@yahoo.com
Departamento de Biología, Edificio de Ciencias Básicas
Campus Universitario de Tafira, Universidad de Las Palmas de Gran Canaria
35017 Las Palmas de Gran Canaria
Spain
Social Networks
Research interests
Marine Ecophysiology,
Biochemical Oceanography
Federico's papers
Osma, N., Maldonado, F., Fernández-Urruzola, I., Packard, T.T., Gómez M.
Journal of Plankton Research, 38(3): 537–550, 2016.
FERNÁNDEZ-URRUZOLA, I., OSMA, N., PACKARD, T.T., MALDONADO, F., GÓMEZ, M.
Deep-Sea Research I, 140: 138-149, 2016.
Maldonado, F., T.T. Packard and M. Gómez
Journal of Experimental Marine Biology and Ecology, 434-435, 110-118, 2012.
Fernández-Urruzola, I., M. Gómez, F. Maldonado, N. Osma and T. Packard
Libro Blanco Malaspina 2010. CSIC. 677-688 pp. 2012